One-Click Notification Guide
One-Click Notification Guide
Updated by Lisa Fockens
The One-Click Notification feature by Wisepops is a powerful tool designed to streamline your user's navigation journey. It allows you to design succinct notifications that swiftly guide your visitors to another page with just a single click.
Understanding One-Click Notifications
Wisepops' One-Click Notification feature lets you create a notification that consists of an enticing teaser and an optional Call-To-Action (CTA). Unlike conventional multi-step notifications, which first expand the teaser to offer more details before presenting the CTA, One-Click Notification instantly redirects users to a different page the moment they click on either the teaser or the CTA. Here's an example: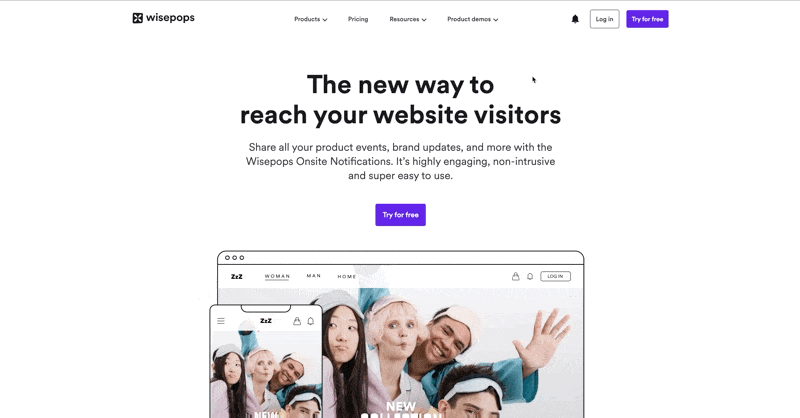 Advantages of Utilizing One-Click Notification
The main benefit of the One-Click Notification feature is its speed and efficiency. By removing any unnecessary steps, it quickly directs your visitors to the desired action. This feature is particularly advantageous for promoting limited-time offers, sharing important announcements, or simply boosting your conversion rates by reducing the number of clicks needed.
Setting Up a One-Click Notification
Sign in to your Wisepops account.
From your notifications dashboard, click on the 'Create campaign' button.
Choose the 'One-Click' option from the list available.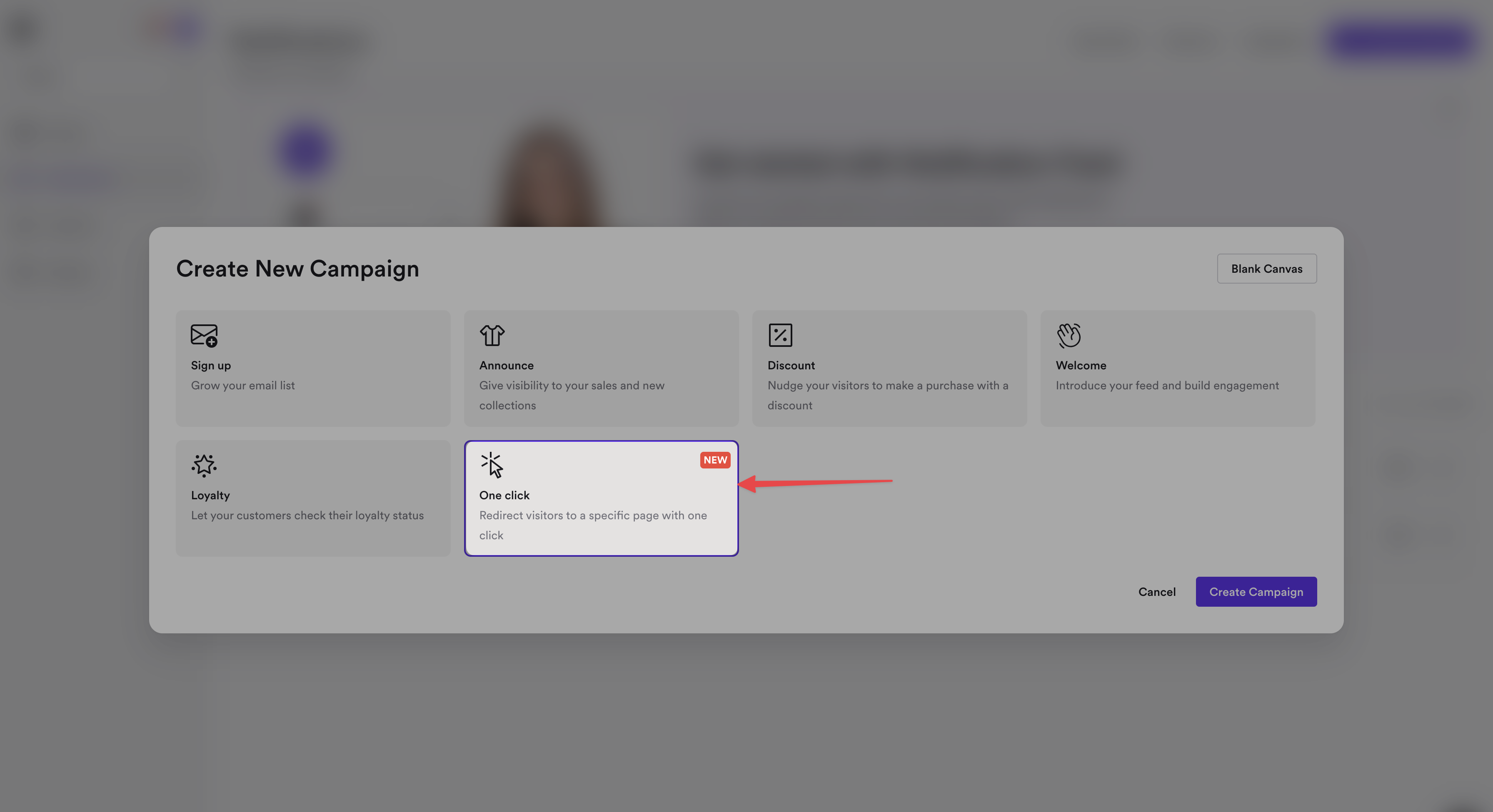 Tailor your engaging Notification: This is your initial interaction with the visitors. Make sure it's impactful enough to seize their attention. You can employ a compelling image or animated GIF.

Link your Notification to the redirect page: Enter the URL of the page where your visitors will be redirected upon clicking the CTA or notification.
Optional: Add your Call-To-Action (CTA): Make your CTA straightforward and distinct, clearly stating the action you want your visitors to take. Use engaging phrases like 'Claim Now' to ensure the visitor takes action.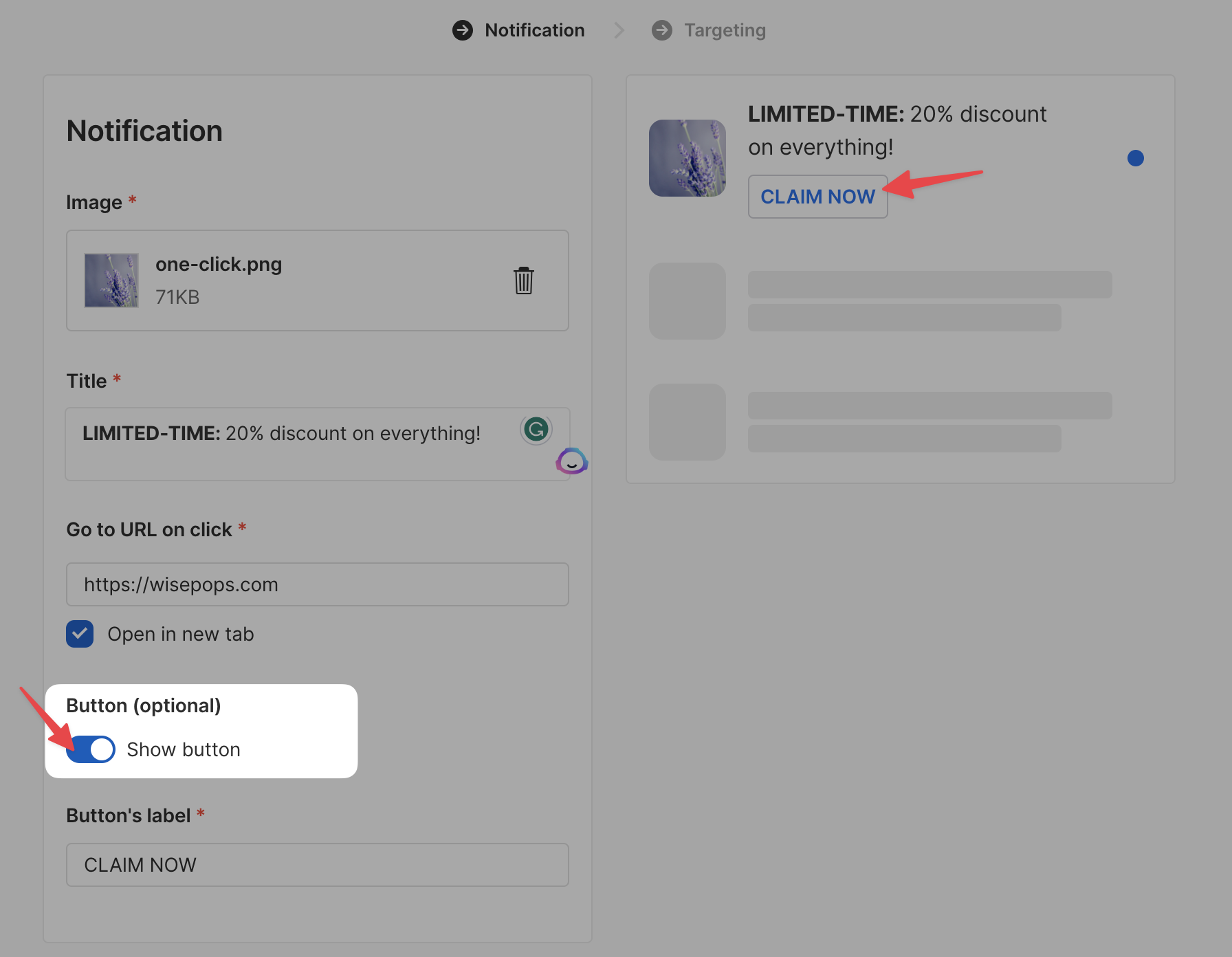 Save and activate your notification.
And voila! Your One-Click Notification is now live. Keep an eye on its performance to gauge its effectiveness towards achieving your goals.
Remember, the success of a One-Click Notification largely hinges on a captivating teaser and a clear, irresistible CTA.
Happy crafting!
If you have any questions, please get in touch.