Accessibility and compliance with ADA/WCAG
Accessibility and compliance with ADA/WCAG
Updated by Boris Hocdé
At Wisepops, our mission is to ensure that your campaigns are inclusive and adhere to the necessary government regulations. To this end, we worked hard to make your popups and notifications campaigns accessible through screen readers, aligning with the WCAG guidelines.
The Web Content Accessibility Guidelines 
(WCAG) 
2.1 are standards designed to facilitate website accessibility for individuals with disabilities. The Americans with Disabilities Act
(ADA)
is a US civil rights law that safeguards individuals with disabilities against discrimination.
Accessibility of Notifications
We have taken measures to enable individuals with disabilities to access and interpret onsite notifications easily. These have been made compatible with screen readers and can be navigated using a keyboard. Here are some of the features:
Notification Bell: This is focusable and communicates the count of unread notifications via the screen reader.
Navigation: Users can navigate notifications using the "tab" key. The screen reader articulates the teaser and indicates if a notification is unread.
Alternative Text for Images: Every notification image is equipped with an "alt" field to provide necessary details.
Keyboard Operations: Notifications can be accessed using the keyboard, with the screen reader narrating the content of each notification.
Making sure that your popups and notifications comply with ADA/WCAG
While we handle as much as possible on our side the complexity required to make your popups and notifications accessible to visitors with disabilities, there are still a few points of attention you must consider on your side to be ADA/WCAG-compliant.
Fill out alt text fields
The alternative text is read aloud by screen readers used by visually impaired users to describe the appearance or function of an image. Make sure that this field is correctly filled in when using an image block in your popup campaign as well as in your notification campaigns.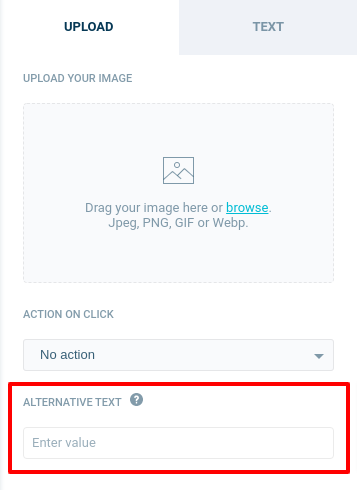 Pay attention to color contrast
Color contrast is the difference in brightness between foreground and background colors. For accessibility purposes, aim for a 4.5:1 ratio between the foreground color (e.g. text, links, etc.) and the background color. This ratio ensures people with moderately low vision can tell the colors apart and see your content. You can check the color contrast ratio with the WebAIM Contrast Checker tool.
For any inquiries or feedback regarding Wisepops' accessibility, please don't hesitate to contact our support team.