Updated by Lisa Fockens
Last update date: 2017/12/19
What is Wisepops?
Wisepops is a popup solution used by the website you are browsing. 
It allows the website owner to display targeted modals on their website. 
These pop-ups can be an invitation to subscribe to their newsletter, an invitation to check their latest promotion, a visual presenting their new product, etc…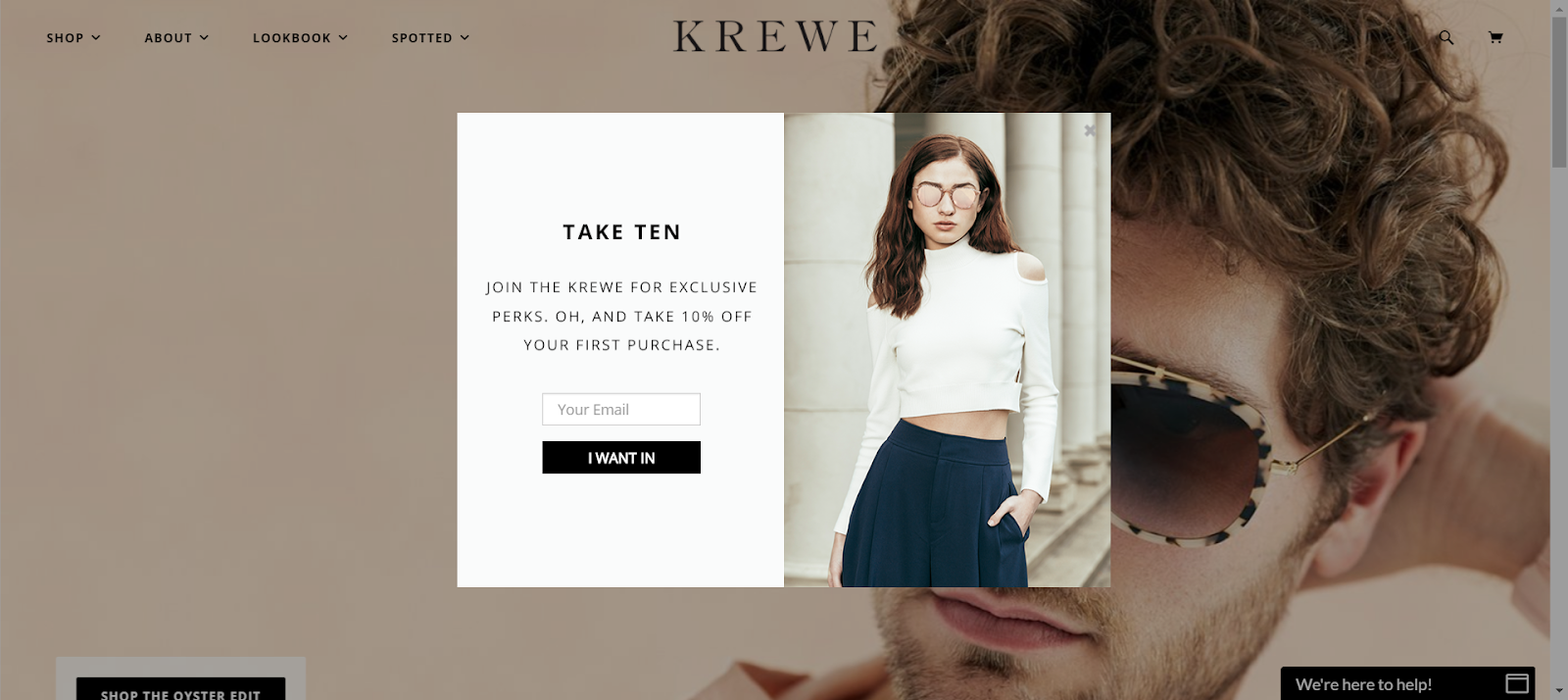 An email pop-up example
First, what we do not do
Wisepops has not, does not, and will not ever:
Sell or share your email address, or any other personal information, identifiable or not, that you provide in a popup form.
Send emails or contact you, for any purpose.
Display any third-party ads on the website you are visiting.
What information do we store about you as a visitor?
Browsing information
For internal targeting purposes, we gather certain details about your browsing history on the website where Wisepops has been set up. 
This information is used to evaluate whether you match one of the display scenarios of the website owner, in which case you will see a given message during your navigation.
These details include:
The last time you visited the website
The pop-in campaigns you interacted with (display, click or sign up)
Any additional information our customer chooses to attach to your visit (for example, your last purchase date)
These details allow the website owner to know if you're a new visitor, for instance, and display a welcome message accordingly.
Your browsing information is stored in a cookie and placed on your computer. This cookie expires after 2 years and helps us make sure that you don't see the same message twice.
This information is not stored on our servers or elsewhere. It can't be accessed by other applications, and it is not used to track you across different websites. To erase these details, you can simply empty your cookies.

Personal details
Webmasters can use Wisepops to collect personal details through popup forms. These details can be your email address, your name, your phone number, etc.

When you enter personal details through a popup form, we also collect your IP address and your country. These two elements help us combat spam.
All these details are stored on our servers and can only be accessed by the website owner and Wisepops employees. They are not shared with anyone else, except with trusted services (such as Mailchimp) to store details and send emails, and only with the approval of the website owner.
We don't keep any other information allowing us to identify you.
Which cookies are created by Wisepops?
Here is a list of cookies we use to remember your visitors' context. All of these cookies are first party: they are attached to your domain, not Wisepops.
wisepops: where we store various persistent data (the popups the visitor has seen / converted, A/B testing IDs, etc.)
wisepops_session: data that have a TTL of 2 hours / browser session (initial referrer, UTM params, popups seen during the session, etc.)
wisepops_visits: persistent cookie where visitors' visit dates are stored
wisepops_props: persistent cookie where custom properties are stored
wisepops_noshow: persistent cookie that disables Wisepops
viewedOuibounceModal: technical session cookie used for exit-intent detection.
You can choose to use browser's local storage instead of cookies.
Additionally, our security partner, Cloudflare, will create a third-party cookie __cfduid. The only goal of this cookie is to protect the Wisepops service against bots and spam.
How can you get your personal details removed from our servers?
Contact us by email at social@wisepops.com. We'll delete everything we have about you within two working days.
Any questions? Feel free to contact us: social@wisepops.com.