Updated by Lisa Fockens
Exit popups are a great way to reach visitors when they are about to leave your website. You can easily create exit popups with Wisepops.
How do exit popups work?
On desktops
To detect a visitor exit, we track your users' mouse movement. When your visitors are about to close the page they're on, they have to move their mouse upwards to reach for the close option. We detect and interpret this mouse movement as an exit and will trigger your popup.
If you want to preview your exit popup on your site, just repeat the mouse trajectory as if you were about to close your tab or browser.
On mobiles
On mobiles, it's a different story. You can use two main signals to anticipate when your visitors are about to leave.
Signal 1: Back Button Pressing
As a mobile user, one of the ways to leave a website is to press "back" until you get back to the previous website you were visiting (Google, for example).
Using javascript, you can trigger a pop-up when the user is pressing "Back" to leave the website. With the right script, you can set the popup to display only when pressing on "Back" will make the user leave your website (versus triggering it every time the user presses "Back").
Signal 2: Scroll Up
Have you noticed?
On most phones — and iPhones and Android phones are no exception — the URL bar disappears when you scroll down. To type in a new URL to leave the page you're on, you have to scroll up a little. That's another signal we can use.
The key here is to find the right amount of scroll up. If it's too sensitive, it will trigger as soon as the user scrolls up a little. On the other hand, if it's not sensitive enough, your popup will never appear.
Here's a quick demo of how scroll up and back button pressing help detect and anticipate exit on mobiles:
Trigger a popup to display on exit
It's easy to set your popup to display on exit. Firstly, open your popup, click Display and select the trigger On exit. It's that simple!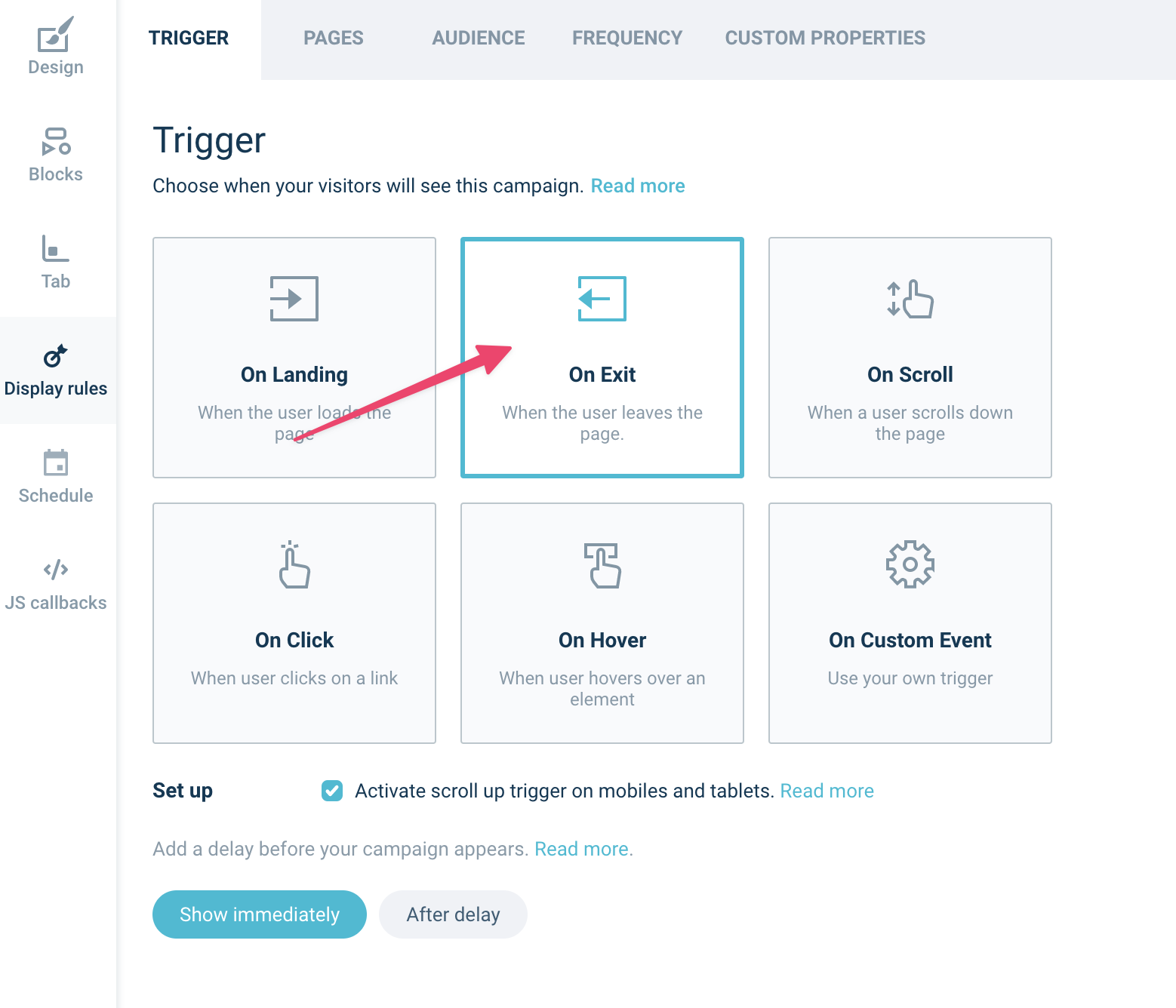 For additional tips and advice to increase conversion, check out our article about exit popups.