How To Use the Tab Feature
How To Use the Tab Feature
Updated by Lisa Fockens
Do you want to use popups while at the same time preserving your user experience?
Do you want to ensure your popup doesn't prevent your users from accessing your content on mobile devices?
Do you want to give users a second chance to see your popup after they've closed it?
Then, you're on the right page!

What's the Tab?
The tab is a kind of smaller discreet popup that displays in the corner after or before your popup.

To get a better idea of what a tab looks like, have a look at the "Mobile Sign-up with Tab" template (If you already have a Wisepops account, click on the link to preview it,)

Display the tab before the popup
Displaying the Tab before your popup helps make your campaign less intrusive: your visitors will only see the full popup if they click on the Tab. It's a sort of opt-in option.

It also makes your popup campaigns more adapted to mobile devices and fully compliant with Google's guidelines for mobile popups as it doesn't hide your content.
To activate it, open the Tab section in the Wisepops campaign builder. Activate the tab and check "Before the popup is displayed."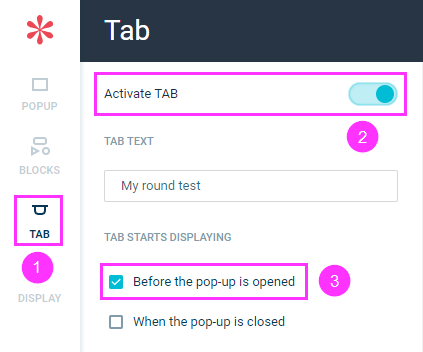 Display the tab after the popup
Activating the Tab after your popup displays gives your users a second chance to see your popup. After they close your popup, they can trigger your popup to reappear by clicking on the tab.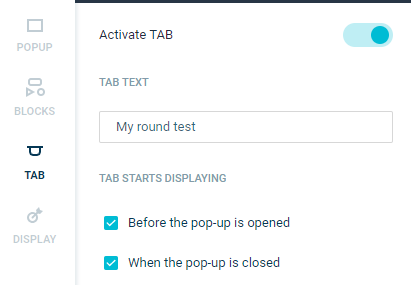 You can have the tab activated both before and after the popup display simultaneously.
Note: We don't count tab displays as "Displays" in the Dashboard statistics. We'll count a display only when the popup is opened.

If you want to make your tab persistent, check out our tutorial: Set up a persistent tab
Not seeing your popup on your website? Try these tips.