Can I use Wisepops on multiple domains?
Can I use Wisepops on multiple domains?
Updated by Lisa Fockens
Yes, you can use Wisepops on multiple domains. To do so, there are two methods.

#1 Add a new website
You can add extra websites from the upper left corner of your dashboard.

To do so, click the name of your existing website and "Add website".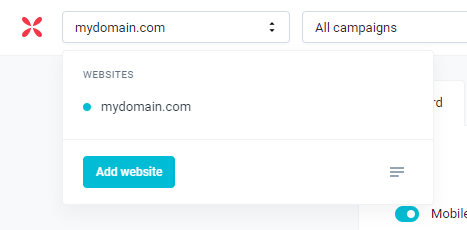 Two things to know when you use this method:
Each domain or sub-domain will have its own setup code. In other words, one campaign set to appear on a specific domain or sub-domain cannot appear accidentally on your other domains.
You may have to pay extra charges when you add websites. Extra websites that aren't included in your plan are charged $10/month.
#2 Use the same setup code (not recommended)
If you don't want to add an extra website, you can reuse the same setup code on your different properties.

To make sure the popup of the domain A doesn't appear on the domain B, you can rely on the URL targeting options.
Important: we don't recommend this option because your popups can appear on the wrong domain if you don't create your URL targeting rules correctly.