Create a Spin-to-Win Campaign
Create a Spin-to-Win Campaign
Updated by Lisa Fockens
You can easily gamify your onsite marketing campaigns by adding a wheel of fortune to your popup. Here's our step-by-step tutorial.
Tutorial
Create your campaign
From your dashboard, hit the "New campaign" and select "Campaign Assistant".

Or, you can build it from scratch. Select the Custom Campaign option and add the wheel component to your campaign from the blocks menu.

Select the goal "Grow your audience".

On the next screen, select "Spin to Win"

Choose your preferred layout.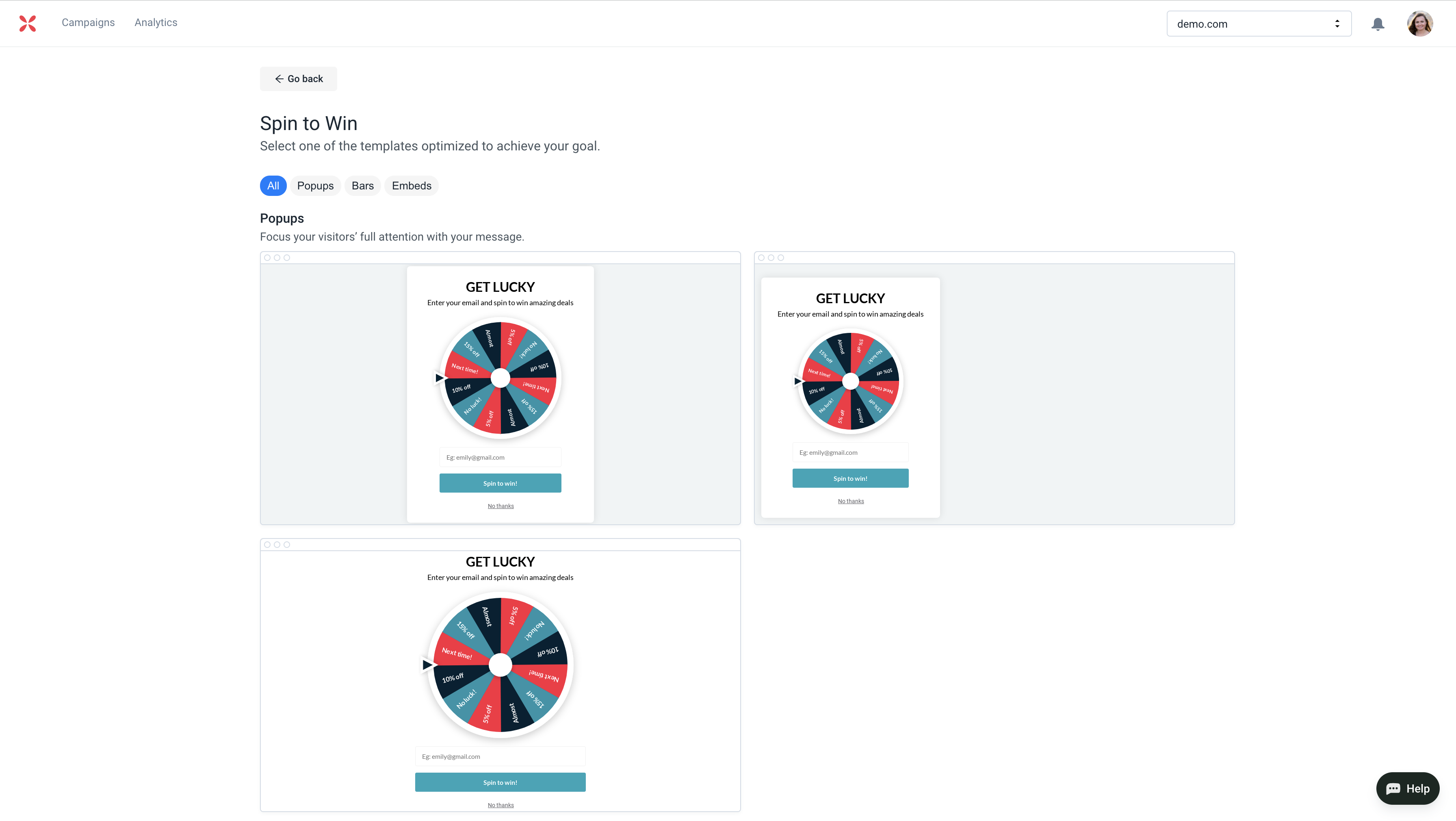 Style and configure your Spin-to-Win campaign
Now the fun part. In the design-builder, customize the colors and design to match your brand identity and website. Don't forget to add your text.

Configure the winning or losing slices in the "Prize" Column, and adjust the probability of winning or losing in the "Chance" column.

Add your discount codes in the "Code" column.

Once you're happy with the design of the main popup, edit the confirmation message in the "Thank you" tab

If you configured losing slices, display a generic message such as "Sorry" or "Better luck next time" like in the following example.
Integrate with your Email Service Provider (ESP)
Return to the main popup screen if you want to send your leads to your email marketing solution. Once there, click on your wheel, go to the "Sync" tab on the left, and select your email tool.

If you want to pass a visitor's discount code and prize along with their email addresses to your email marketing tool, move to the "Fields" tab, click the "Merge field" checkbox, and map it to a destination field in your email marketing system in the "Merge with" dropdown field.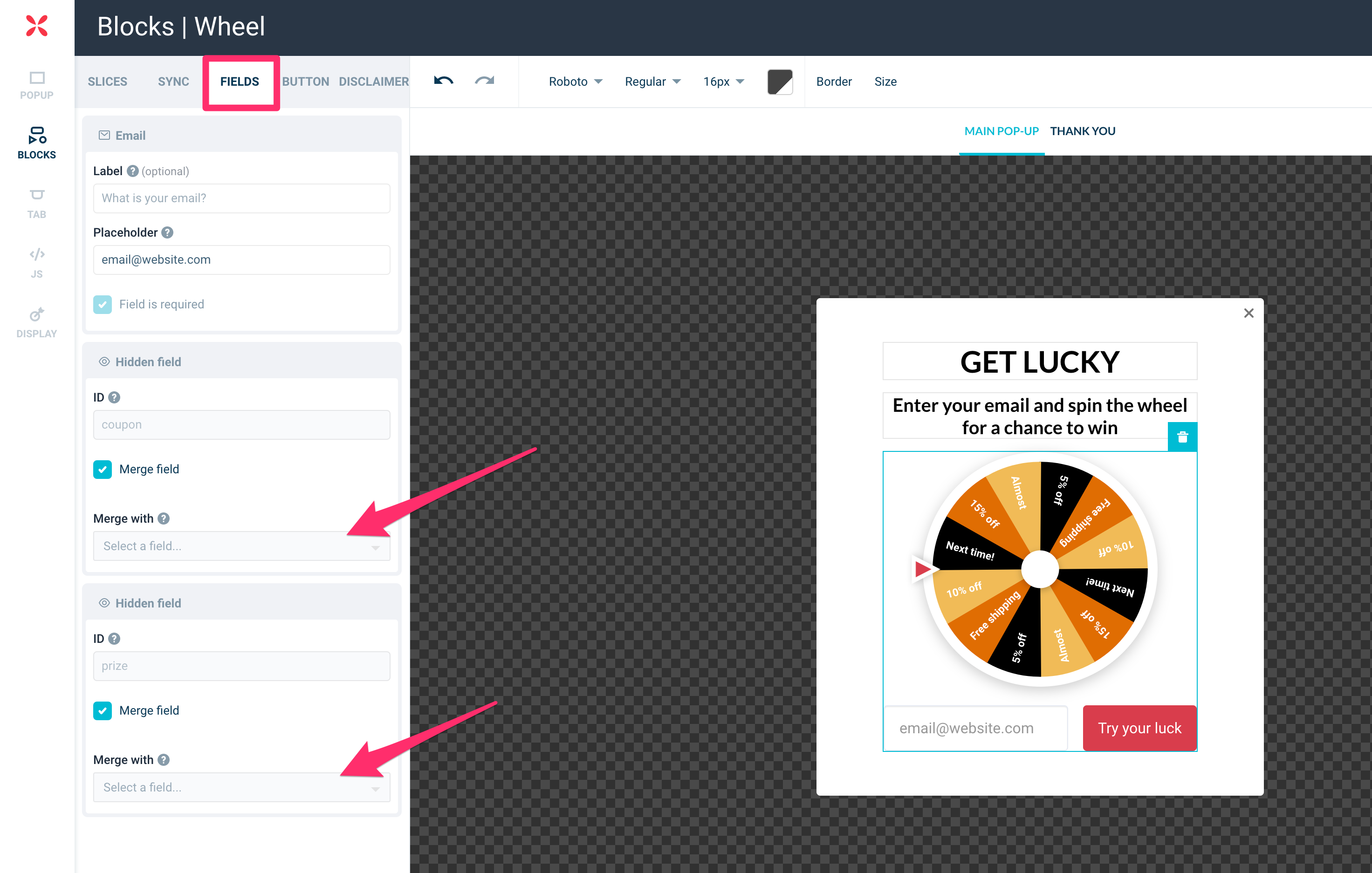 This comes in handy as you automate your lead generation strategy with your email marketing platforms because it allows the coupon code to be automatically available for use in your emails to customers.
And now you have a spin-to-win popup that will engage your visitors and deliver results. Feel free to contact us on chat if you need any help.
Examples
FAQ
Is there a way to avoid the number of opportunistic participants?

Yes. Display your Spin to Win campaign for returning visitors only. It will be harder for opportunistic participants to play multiple times using the incognito mode.
Is there a way to use to create a Spin-to-win campaign without collecting the emails?
Is there a way to display a different thank you message based on the result?

Unfortunately, it's not currently possible. We recommend making the thank you popup copy generic using phrases such as "Here's your result". However, you could plug the campaign to your ESP and generate a different follow-up email based on the result.
What are the best ways to ensure GDPR compliance?

1. Include a clear opt-in checkbox for users to provide explicit consent
2. Provide links to your privacy policy and terms of service within the popup
3. Document and store users' consent, including the date, time, and specific consent language used.
Not seeing your popup on your website? Try these tips.