Connect Wisepops with Yotpo SMS and Email
Connect Wisepops with Yotpo SMS and Email
Updated by Ernestas
Thanks to the Wisepops & Yotpo integration, you can synchronize the leads collected by Wisepops as Yotpo customers.
Connect your Yotpo account
Follow these steps to connect your account:
Log in to your Wisepops account,
Open or create a popup with a sign-up form,
Click your sign-up form,

In the left menu, click Sync, then Yotpo,

In the new opened tab, log in to your Yotpo account, and click Connect,

Now, let's choose a destination list. Go to your Yotpo (SMSBump) account. In Audience > Lists & Segments, find the list where Wisepops leads should go. Click View. Copy the last part of the URL, this is your Yotpo list ID.

Back in the Wisepops builder, paste the Yotpo list ID, and fill the tags if needed.
And voilà!
How fields are mapped
For the lead to be synced with Yotpo, you must collect at least an email or phone number.
The following fields are mapped automatically to Yotpo fields:
Email
Phone
First name
Last name
You can choose how other fields are mapped in the Wisepops builder. By default, Wisepops shows a list of standard Yotpo fields. But you can also create your own custom fields by typing a new name: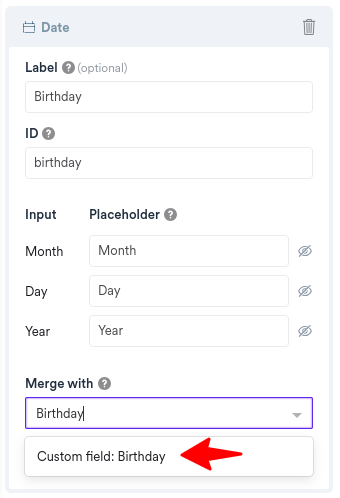 The ID of the field is used for CSV export and webhooks. Make sure to use a unique and recognizable ID.